Facing up to material issues and challenges and fulfilling the potential of this vast land
With its vast landscape, outstanding nature, and wealth of delicious local food and dishes, Hokkaido has ranked first in a survey assessing the attractiveness of Japan's prefectures for twelve consecutive years*. Hokkaido is also home to Japan's top renewable energy sources, including solar energy, wind energy, and biomass energy.
Despite this, Hokkaido suffers from labor shortages in many industries due to depopulation, a process that began here 10 years ahead of the rest of the country. In addition, traveling to urban areas within Hokkaido is expensive due to the sheer size of the prefecture, while providing maintenance for transportation and infrastructure in non-urban areas is a serious challenge. In fact, Hokkaido faces more challenges than any other prefecture.
However, calls for a transition to a decentralized society and the need for a steady supply of food and energy have been increasing since the advent of the COVID-19 pandemic. Nonetheless, we are beginning to see signs of hope for the future, as demonstrated by a recent rocket launch by an aerospace startup in Taiki-cho, a town located in the Tokachi region of Hokkaido.
Hokkaido may face more challenges than any other prefecture, but this ever-appealing land is showing signs of change. Keeping these characteristics in mind and leveraging the various technologies that have been amassed by seven universities and one national institute in Hokkaido, we will create innovations that focus on Hokkaido's unique characteristics. In Challenge Field Hokkaido, we aim to turn adversity into opportunity and seek to create a society where we can all feel happier and more satisfied with our lives and hope for a better future.
* 2020 survey by Brand Research Institute, Inc.
Creating innovations by integrating technologies and circulating resources in both the digital and real spaces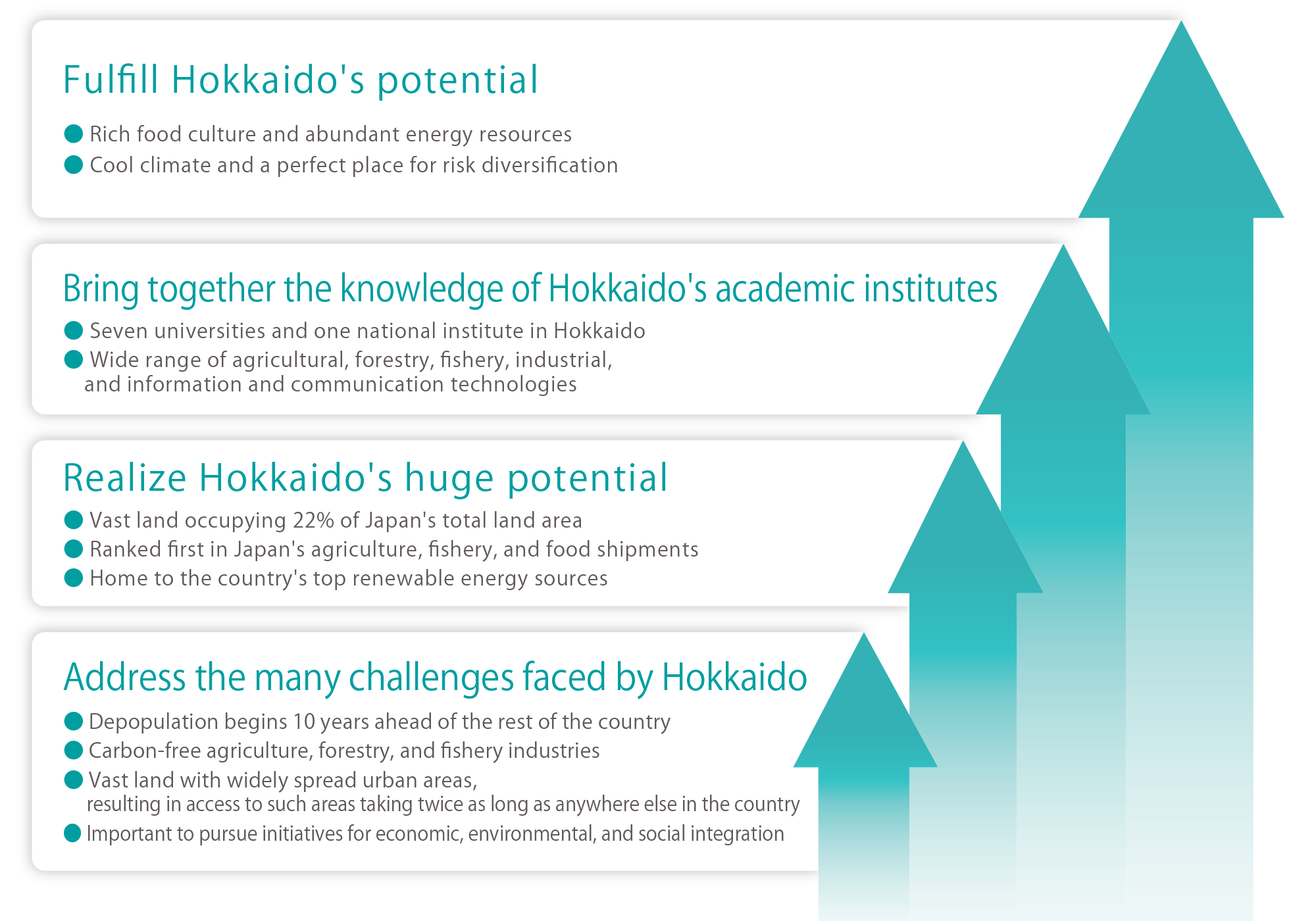 Click here for details on how the project works.
Click here for details on the four material challenges and promotion plans.
Project adoption
Challenge Field Hokkaido, which is managed by the Northern Advancement Center for Science & Technology (NOASTEC) as a creation area support organization, has been selected for the NEXt University-Society Open Innovation Initiative of the Ministry of Economy, Trade and Industry.